Frequently Asked Questions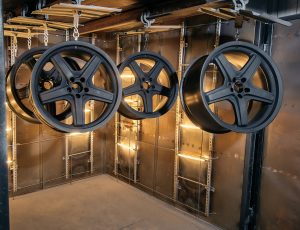 What is Powder Coating?
Powder coating is the application of dry powder to coat a part with a protective color surface. This is one of the newest techniques in the surface finishing industry. When you work with us, the industry-leading powder coating company, you're sure to obtain a superior overall coating available in today's marketplace.
What Can Be Powder Coated?
Almost any type of glass or metal products can be powder coated, including steel, stainless steel, aluminum, cast aluminum, magnesium, cast iron, pot metal, copper and brass. Materials that cannot be coated, include anything that would be damaged by the 400 degree temperature of the baking oven, such as plastic, rubber, bondo, lead or any other low-temperature alloy or solder.
How Do I Prepare Parts For Coating?
Your parts should be cleaned of dirt, oil, grease and unnecessary hardware. We will remove surface rust and old paint with low-pressure sandblasting. It is important that you mark or specify any areas of your parts that are not to be powder coated.
What Colors Are Available?
Powder Coating is available in thousands of colors, textures and finishes. We keep a large stock of colors on hand but if we don't have what you are looking for, we can special order it. Please call for color availability (805) 444-6219.